What are Industrial Vibrators?
Industrial vibrators are motors that have counterweights on their ends. They cause vibration on the surface on which they are placed.
Industrial vibrators convert electrical energy or pressure through their counterweights into kinetic energy (vibration) and depending on their size can offer vibration expressed in the corresponding kilograms.
They have a range of applications in silos, sieves, scoops, conveyor belts, vibrating banks, prefabricated structures, etc.
Industrial vibrators are used in many sectors of industry such as food industries, beverage bottling, flour mills, pharmaceutical industries, cement product industries, aluminum constructions, processing of recyclable materials, aggregates, oil mills, quarries, earthworks, snow removal, etc.
They are applied to the structure (container, sieve, truck body) to help the material flow.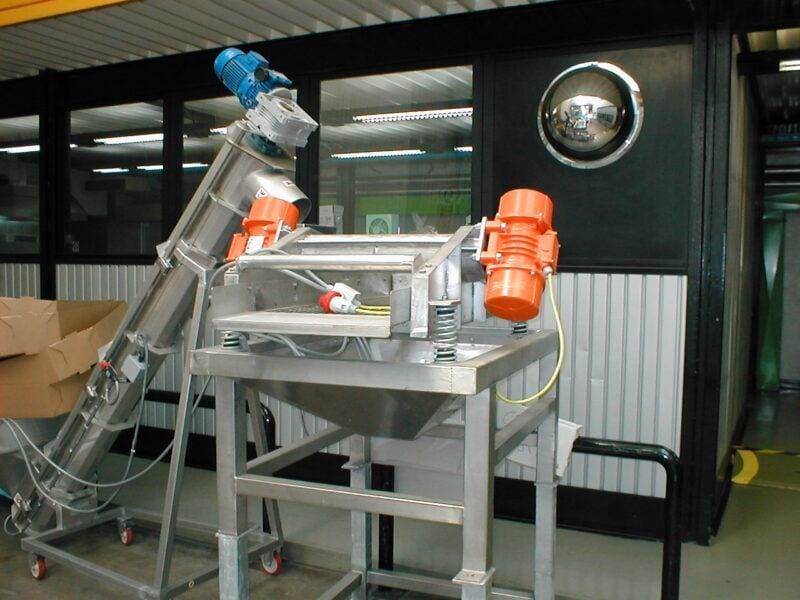 Industrial Vibrator Types
Electrical Vibrators
Electric vibrators are more common and start at small sizes. They are divided into categories according to the type of power supply (Battery 12V, Battery 24V, Current 220V & Current 380V) and the type of material we want to vibrate.
Pneumatic Vibrators
Pneumatic vibrators are more compact and require an air supply to vibrate the material. They are very efficient with light weight and require smaller mounting surface. They are divided into piston and turbo vibrators.
Industrial Vibrators Applications
The use of industrial vibrators has many applications in various industries such as agriculture, construction, food production, product storage, etc.
Vibrators are used where there are powdery materials, e.g. sand, cocoa, etc., in order to minimize the transport time of the materials. They also don't allow material to stagnate to prevent production downtime.
Even in food and beverage production, vibration is used to settle materials evenly and remove any entrapped air that may cause undesirable results.
Other applications are material transfers with dump trucks where the vibration moves the material more efficiently.
Finally, in several agricultural applications, vibrators are used to separate the product by size (sieving), e.g. in the olive sorting, to transfer the products to a counter for their quality control.
Find the industrial vibrator that suits your needs
The KARANASIOS company is the exclusive representative of the leading European manufacturers of vibrators ITALVIBRAS, FINDEVA, TUXEL and imports industrial vibrators for a wide range of vibration systems that work with electricity or air. We have a wide range of products for all applications and offer catalogs and support to help you find the machine that suits your needs.
Do you have any questions?