The "Karanasios" company, situated west of Thessalonica, specializes in the field building of building and appliance, since 1973. With a continuous presence at the International Fair of Salonica for many years, we have been established in the consciousness of the manufacturers of both small and large technical works.
We introduce products with well-known trademarks as: ITALVIBRAS, FINDEVA, SILLA, COMATED EDILIZIA, SIRTE, BAME, ENAR, TECHNOFLEX, FARAONE, COVIBRA, GEOPLAST, RURMEC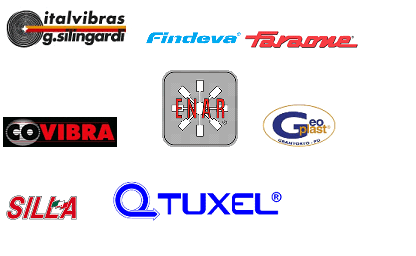 Steel Processing Systems (Steel Bending Machines and Steel Cutting Machines) made by SILLA

Clamps (rapid, yellow clip, top series etc.) made by COMATED EDILIZIA

Vibrators Systems (mass vibrators, surface vibrators) working with air or gas, useful in any kind on building works

Concrete Mixers

and other machines (Dumpers, Power generators, Electrical Motors, etc.)
The largest Greek firms of constructors as well as other technical companies and building contractors are some of our clients. Our equipment has supplied many worksites in North Greece such as Egnatia Street, the Music Hall if Salonica, the Port of Alexandroupolis, the Interbalkan Medical Center of Salonica etc.
Our main object is the instant and qualitative service of our clients as well as the supply of after sales service.
Thessaloniki:
322 Monastiriou str, PC 546 28, T +30 2310765665, F+30 2310 761497
You can find us: map
Athens:
29 Leandrou str, PC 104 43 T +30 210 5132607, F: +30 210 5142516